Impact and Punch Down Tool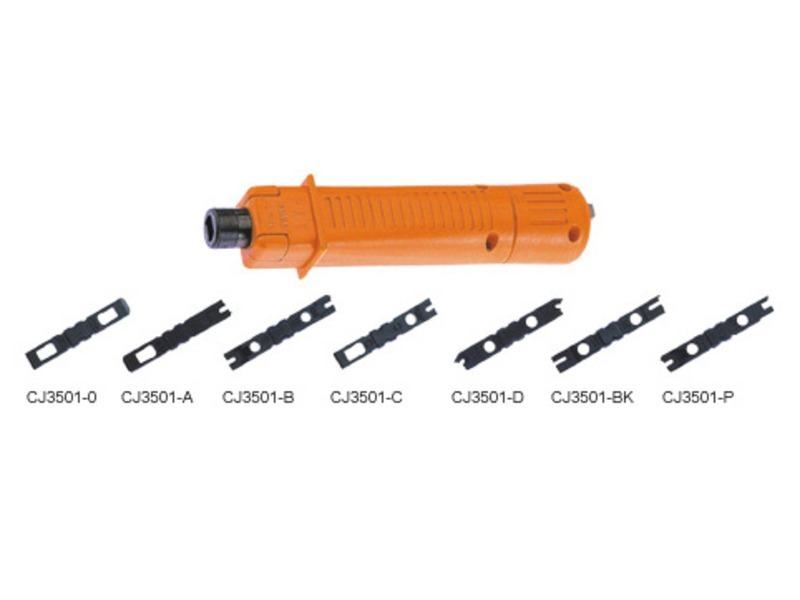 Description
CJ3501
Model No

Handle

Blade

For Terminal Block

CJ3501

CJ3501

CJ3501-0

Use on 66 type

CJ35012

CJ3501-A

Use on 66 & 110/88 type

CJ35013

CJ3501-B

Use on 110/88 type

CJ35014

CJ3501-C

Use on 66 & 110/88 type
(w/o cuts)

CJ35015

CJ3501-D

Use on 630A modular
phone jack

CJ35016

CJ3501-BK

Use on krone type

CJ35017

CJ3501-P

Use on Panasonic &110
type
The Impact and Punch Down Tool is a versatile tool used for terminating and connecting wires in various applications. It offers a range of models, each designed for specific types of connections.
The CJ3501 model is designed for use on 66-type connections. It provides a reliable solution for terminating wires on this type of terminal block. For those who require compatibility with both 66 and 110/88 types, the CJ35012 model is available. This model allows for efficient wire termination on both types of terminal blocks.
For users specifically working with 110/88 type connections, the CJ35013 model is designed to meet their needs. It provides the necessary functionality and precision for terminating wires on 110/88 terminal blocks. Additionally, the CJ3501-B model offers compatibility with 66 and 110/88 types but without the cutting feature.
For applications involving 630A modular phone jacks, the CJ35015 model is the recommended choice. It ensures efficient and accurate wire termination on these specific jacks. Similarly, the CJ3501-BK model is designed for use on Krone-type connections, offering a reliable solution for wire termination.