Impact and Punch Down Tool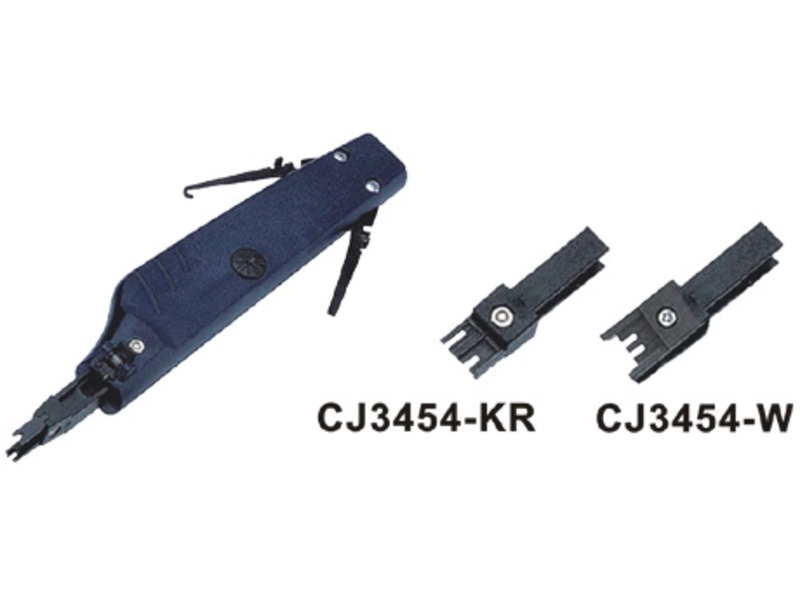 Description
CJ3453
Model No

Handle

Replacement Head

Description

CJ3453KR

CJ3453

CJ3454-KR

Use on Krone & 110 terminal
block

CJ3453W

CJ3454-W

Use on Bix type terminal block
The Impact and Punch Down Tool is an essential tool for professionals working with telecommunications and networking systems. It offers different models to accommodate various types of terminal blocks and ensure efficient wire termination.
One of the models available is the CJ3453KR, which features a CJ3453 handle and a replacement head called CJ3454-KR. This model is specifically designed for use on Krone and 110 terminal blocks. It provides the necessary functionality and precision to terminate wires on these types of blocks accurately. With the CJ3453KR, professionals can confidently handle wire termination tasks on Krone and 110 terminal blocks.
Another model, the CJ3453W, features a CJ3454-W handle and is suitable for use on Bix-type terminal blocks. It offers compatibility and reliability when working with Bix terminal blocks, ensuring secure wire termination. The CJ3453W is designed to meet the requirements of professionals working with Bix-type connections, providing them with a reliable tool for their wire termination needs.
Both the CJ3453KR and CJ3453W models are designed to enhance efficiency and accuracy when performing wire termination tasks. They are durable, ergonomic, and offer a comfortable grip, making them suitable for prolonged use. Whether working on Krone, 110, or Bix-type terminal blocks, these tools provide the necessary functionality to complete the job effectively.