6 Pcs reversible mini screwdriver set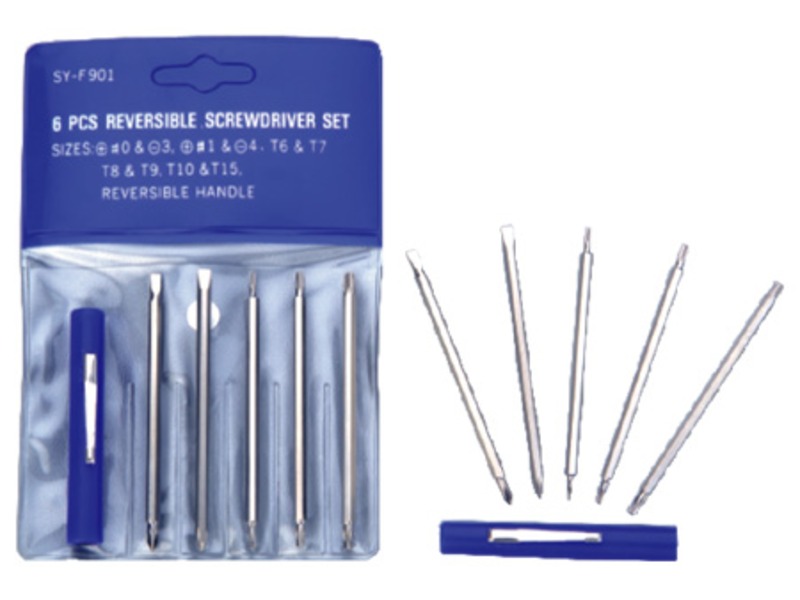 Description
SY-F901 6 Pcs reversible mini screwdriver set:
• y 3 & Å #0.
• y 4 & Å #1.
• T6 & T7.
• T8 & T9.
• T10 & T15.
When it comes to small and intricate tasks that require precision, having the right tools is crucial. Introducing the SY-F901 6 Pcs Reversible Mini Screwdriver Set, a versatile and compact set of screwdrivers designed to meet your intricate screw-driving needs.
This set features six reversible mini screwdrivers that offer a reversible design, providing you with multiple options in a single tool. With the y 3 & Å #0 screwdriver, you can tackle screws with a cross-shaped slot or a single horizontal slot. This combination allows you to handle a wide range of screws commonly found in electronics, gadgets, and small appliances.
In addition, the set includes the y 4 & Å #1 screwdriver, which is ideal for slightly larger screws. The T6 & T7 and T8 & T9 screwdrivers offer Torx heads, perfect for working with specialized screws often found in electronics, automotive components, and other machinery. Lastly, the T10 & T15 screwdriver combination provides the torque needed for heavier-duty tasks.
Each screwdriver in the SY-F901 set is meticulously crafted with high-quality materials to ensure durability and precision. The reversible design allows you to switch between different screwdriver heads effortlessly, making it easy to adapt to various screw types and sizes. The ergonomic handles provide a comfortable grip, reducing hand fatigue during extended use.