8 Pcs Celler Phone Opener Screwdriver Set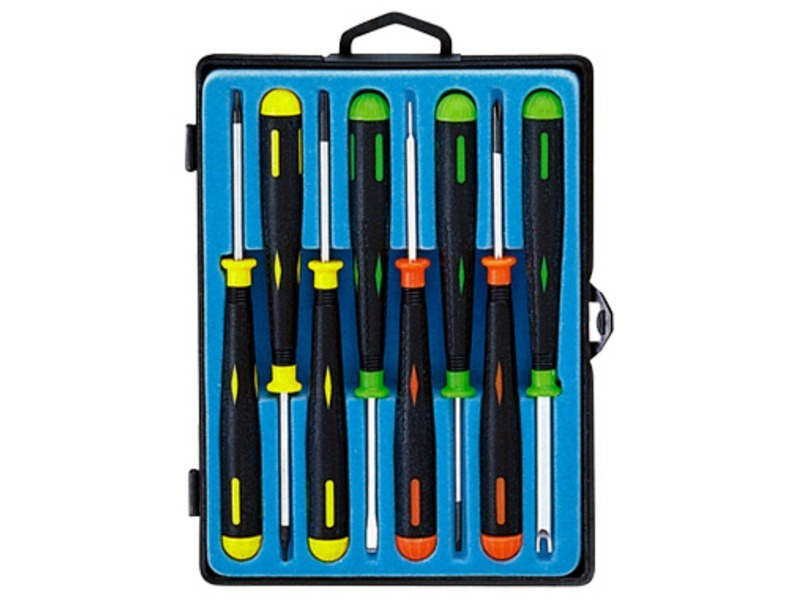 Description
SY-F9201 (8 PCS)
(O.A.L.: 145mm)
T5, T6 torque driver
T8H Security screwdriver
#0 screwdriver
2.0 screwdriver
5.0 screwdriver
¡ Folding screwdriver
¡ Back panel opener
The SY-F9201 (8 PCS) Cell Phone Opener Screwdriver Set is a versatile and essential tool kit designed specifically for mobile phone repair. With its carefully selected assortment of high-quality screwdrivers and a convenient back panel opener, this set empowers both enthusiasts and professionals to delve into the world of mobile phone repair and maintenance with confidence and precision.
Featuring a variety of screwdriver types, the SY-F9201 (8 PCS) set equips you with the necessary tools to tackle different screws commonly found in cell phones. The T5 and T6 torque drivers are perfect for handling small and delicate screws, providing the necessary torque to secure or loosen them without damaging the components. The T8H security screwdriver allows you to access screws with specialized security heads, ensuring you have the right tool for the job.
In addition to the torque and security drivers, the set includes a #0 screwdriver, a 2.0 screwdriver, and a 5.0 screwdriver. These screwdrivers cover a range of screw sizes commonly encountered in cell phones, allowing you to disassemble or assemble various components with ease and precision. Whether you need to replace a broken screen, swap out a battery, or perform other repair tasks, these screwdrivers provide the reliable grip and control required for efficient and effective work.
The folding screwdriver in the set offers added convenience and portability. With its compact design, it easily fits into your pocket or tool kit, allowing you to have a reliable screwdriver on hand wherever you go. This folding feature also ensures that the screwdriver remains protected and prevents any accidental damage or injuries when not in use.