8 Pcs Celler Phone Opener Screwdriver Set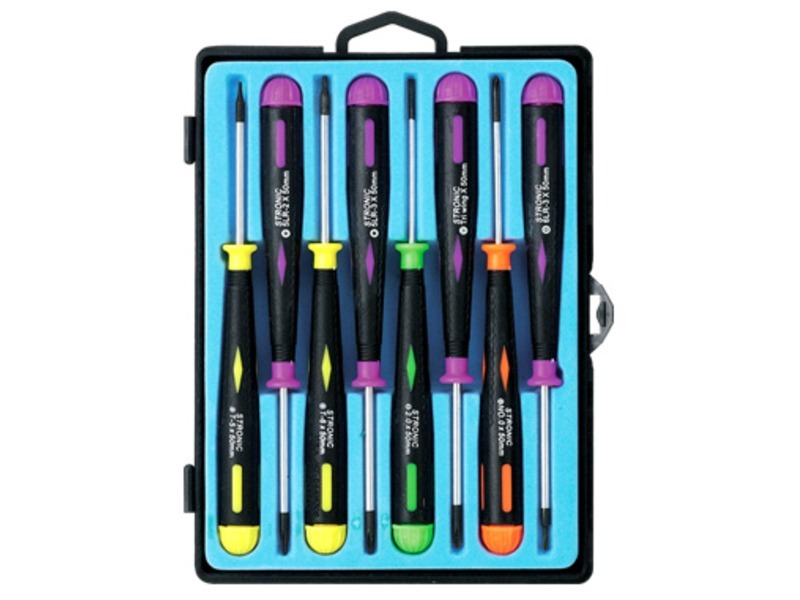 Description
SY-F9211 (8 PCS) Japan series
(O.A.L.:145mm)
T5,T6 Torque driver.
#0 Screwdriver.
2.0 Screwdriver.
Tri wing Screwdriver.
5LR-2 Screwdriver.
5LR-3 Screwdriver.
6LR-3 Screwdriver.
When it comes to cell phone repairs and maintenance, having the right tools is essential. The SY-F9211 (8 PCS) Japan Series Cell Phone Opener Screwdriver Set is specially designed to meet the demands of cell phone technicians and enthusiasts.
This set features eight high-quality screwdrivers that cater to the specific needs of cell phone opening and repair. With torque drivers T5 and T6 included, you'll have the necessary tools to handle screws of varying sizes with precision and ease. The #0 and 2.0 screwdrivers are ideal for general-purpose use, while the tri-wing screwdriver allows you to access specialized screws commonly found in cell phones.
The SY-F9211 set also includes three screwdrivers specifically designed for cell phone battery compartments. The 5LR-2, 5LR-3, and 6LR-3 screwdrivers are perfectly suited for removing and installing battery covers with ease and efficiency.
Crafted with precision and durability in mind, the screwdrivers in the SY-F9211 set are made from high-quality materials that ensure longevity and reliability. The ergonomic design of the screwdriver handles provides a comfortable grip, allowing for extended periods of use without discomfort.