8 Pcs Precision Screwdriver Set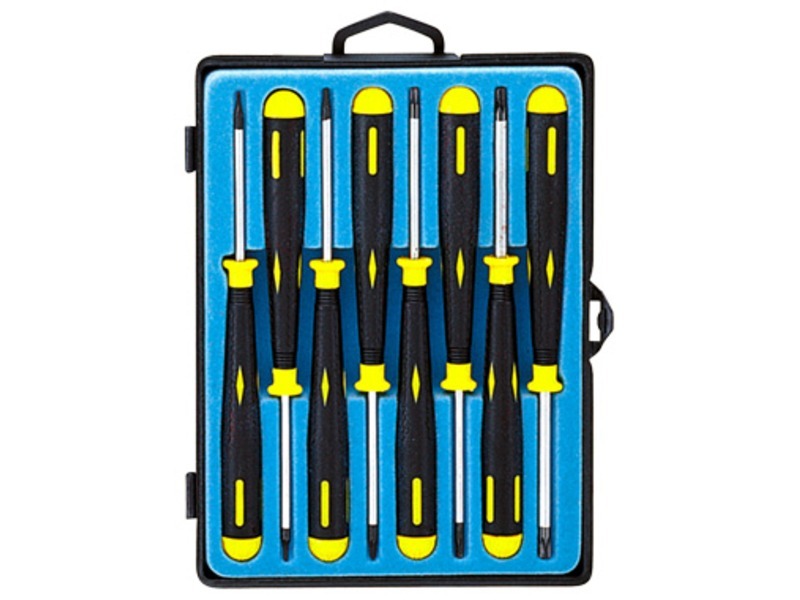 Description
SY-F9203 (8 PCS)
• 8 PCS TORQUE DRIVER:
T-5 x 50, T-6 x 50, T-7 x 50,
T-8 x 50, T-9 x 50, T-10 x 50,
T-15 x 50, T-20 x 50mm.
The SY-F9203 (8 PCS) Precision Screwdriver Set is a versatile and essential tool kit designed for those who require precise control when working with screws. With a wide range of torque drivers included, this set ensures that you have the right tool for the job, no matter the task at hand.
Featuring eight different torque drivers, the SY-F9203 set offers a comprehensive selection of sizes to meet various needs. From the T-5 to the T-20, each driver is carefully crafted to provide optimal control and grip when working with screws of different sizes. Whether you're assembling furniture, repairing electronics, or working on other projects that require precise screw tightening or loosening, this set has you covered.
The ergonomic design of the SY-F9203 precision screwdrivers enhances comfort during use, reducing fatigue and allowing for extended periods of work without sacrificing precision. Each driver is precisely machined to ensure a perfect fit with corresponding screws, minimizing the risk of slippage or damage to the screw heads.
The SY-F9203 (8 PCS) Precision Screwdriver Set is suitable for both professional technicians and DIY enthusiasts. Whether you're a computer technician, an electronics hobbyist, or someone who enjoys intricate projects, this set provides the tools needed to handle various tasks with confidence and precision.