12 Pcs Computer Tool Kit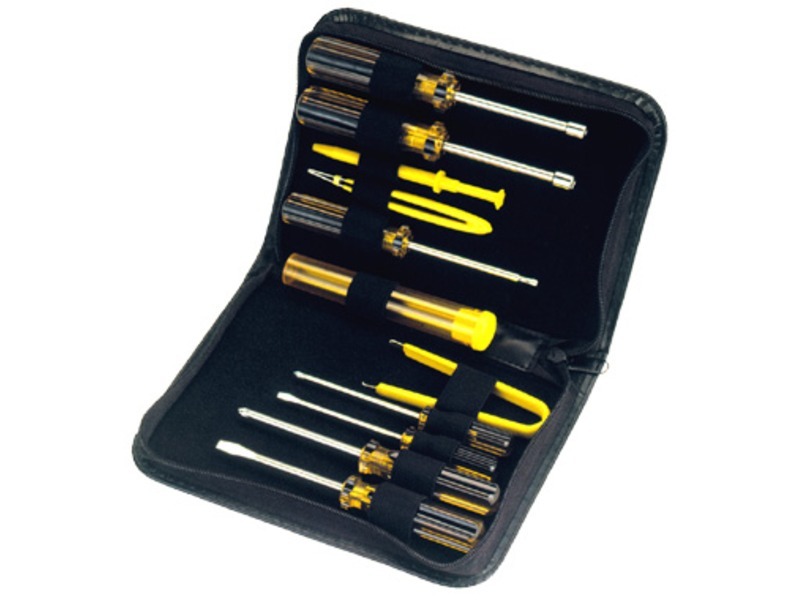 Description
SY-701A (12 PCS)
• 3/16" FLAT SCREWDRIVER.
• # 1 PHILLIPS SCREWDRIVER.
• 1/8" FLAT SCREWDRIVER.
• # 0 PHILLIPS SCREWDRIVER.
• IC EXTRACTOR.
• SPARE PARTS TUBE.
• T15 TORQUE SCREWDRIVER.
• TWEEZERS.
• THREE PRONGS HOLDER.
• 1/4" NUT DRIVER.
• 3/16" NUT DRIVER.
• BLACK ZIPPER CASE.
¡ 20 SETS/CTN/1'/10/11 KGS (G.W.)
Introducing the SY-701A (12 PCS) Computer Tool Kit, a compact and essential collection of tools designed specifically for computer repairs and maintenance. Whether you're a professional technician or a tech-savvy individual, this kit is tailored to meet your needs and assist you in handling various computer-related tasks.
Included in this tool kit are screwdrivers of different types and sizes. The 3/16" flat screwdriver and #1 Phillips screwdriver are ideal for removing and installing screws commonly found in computer hardware. Additionally, the 1/8" flat screwdriver and #0 Phillips screwdriver are perfect for working with smaller screws and delicate components.
To facilitate the safe removal of integrated circuits (ICs), the kit includes an IC extractor tool. This tool ensures a gentle and precise extraction of ICs without causing damage to the surrounding components.
The spare parts tube provides a convenient and organized way to store small components such as screws, jumpers, and other spare parts. With this tube, you can keep these items secure and readily accessible during computer repairs or upgrades.