12 Pcs Computer Tool Kit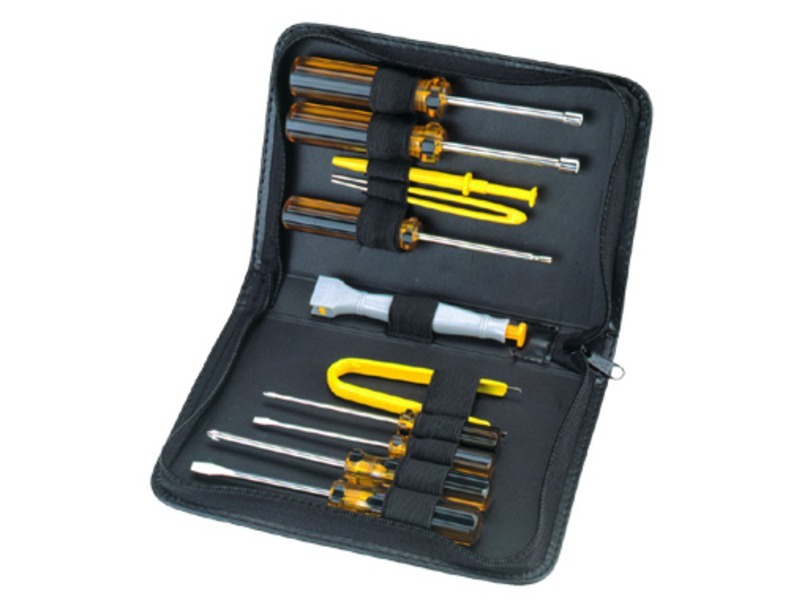 Description
SY-7011 (12 PCS)
• 3/16" FLAT SCREWDRIVER.
• # 1 PHILLIPS SCREWDRIVER.
• 1/8" FLAT SCREWDRIVER.
• # 0 PHILLIPS SCREWDRIVER.
• IC EXTRACTOR.
• I.C. INSERTER (14-16 PIN ICS).
• T15 TORQUE SCREWDRIVER.
• TWEEZERS.
• THREE PRONGS HOLDER.
• 1/4" NUT DRIVER.
• 3/16" NUT DRIVER.
• BLACK ZIPPER CASE.
¡ 20 SETS/CTN/1'/10/11 KGS (G.W.)
Introducing the SY-7011 (12 PCS) Computer Tool Kit, a comprehensive set of tools specifically designed to assist you in computer repair and maintenance tasks. Whether you're a seasoned technician or an enthusiastic DIY computer enthusiast, this kit is tailored to meet your needs and empower you with the tools required to handle various computer-related challenges.
Included in this tool kit are screwdrivers of different types and sizes. The 3/16" flat screwdriver and #1 Phillips screwdriver are perfect for handling common screws found in computer hardware. Additionally, the 1/8" flat screwdriver and #0 Phillips screwdriver are ideal for delicate screws and intricate components.
To safely remove and install integrated circuits (ICs), the kit features an IC extractor. This tool allows for the careful extraction of ICs without causing damage to the surrounding components. In addition, an I.C. inserter designed for 14-16 pin ICs is also included, making it easier to insert these specialized components into their respective sockets.
The T15 torque screwdriver is a valuable addition to the kit, enabling you to handle torque screws with precision and control. This ensures proper tightening and loosening of screws, contributing to the overall stability and reliability of computer hardware.