12 Pcs Computer Tool Kit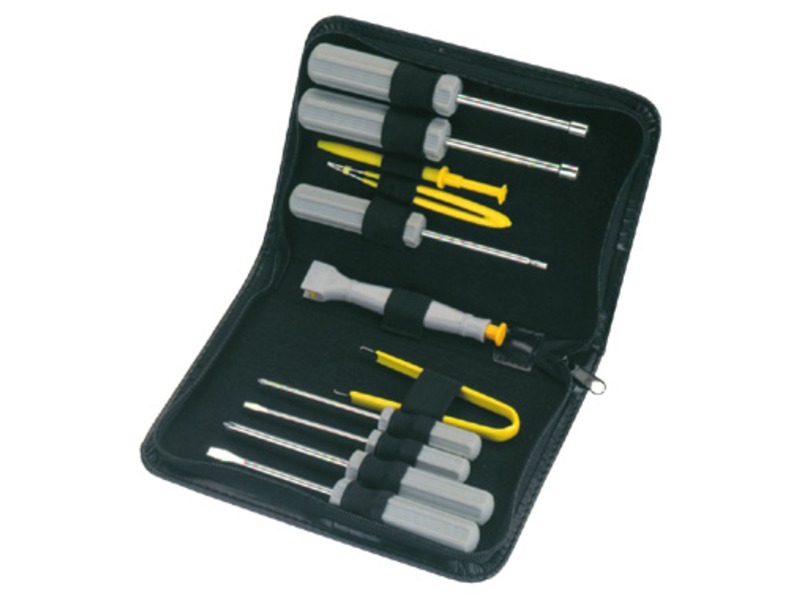 Description
SY-87011 (12 PCS)
• 3/16" FLAT SCREWDRIVER.
• # 1 PHILLIPS SCREWDRIVER.
• 1/8" FLAT SCREWDRIVER.
• # 0 PHILLIPS SCREWDRIVER.
• IC EXTRACTOR.
• IC INSERTER (14-16 PIN ICS).
• T15 TORQUE SCREWDRIVER.
• TWEEZERS.
• THREE PRONGS HOLDER.
• 1/4" NUT DRIVER.
• 3/16" NUT DRIVER.
• BLACK ZIPPER CASE.
¡ 20 SETS/CTN/1'/9/10 KGS (G.W.)
Introducing the SY-87011 (12 PCS) Computer Tool Kit, a comprehensive set of tools designed to empower computer enthusiasts and technicians alike. This kit provides you with a range of essential instruments that will assist you in handling various computer-related tasks with precision and efficiency.
Included in this kit are screwdrivers of different sizes and types to meet your needs. The 3/16" flat screwdriver and #1 Phillips screwdriver allow you to tackle a wide array of screws commonly found in computer systems. For smaller screws, the 1/8" flat screwdriver and #0 Phillips screwdriver are invaluable tools to have. With these screwdrivers, you can confidently disassemble and reassemble computer components as needed.
To handle integrated circuits (ICs) with ease, the kit includes an IC extractor and an IC inserter specifically designed for 14-16 pin ICs. These tools enable you to safely remove and install ICs without the risk of damage. Whether you are upgrading memory modules or replacing ICs, these tools ensure a smooth and hassle-free process.
The SY-87011 (12 PCS) Computer Tool Kit also features a T15 torque screwdriver, perfect for tasks that require precise torque control. This tool allows you to apply the right amount of force when dealing with delicate components, ensuring that you don't overtighten or strip screws.