12 Pcs Computer Tool Kit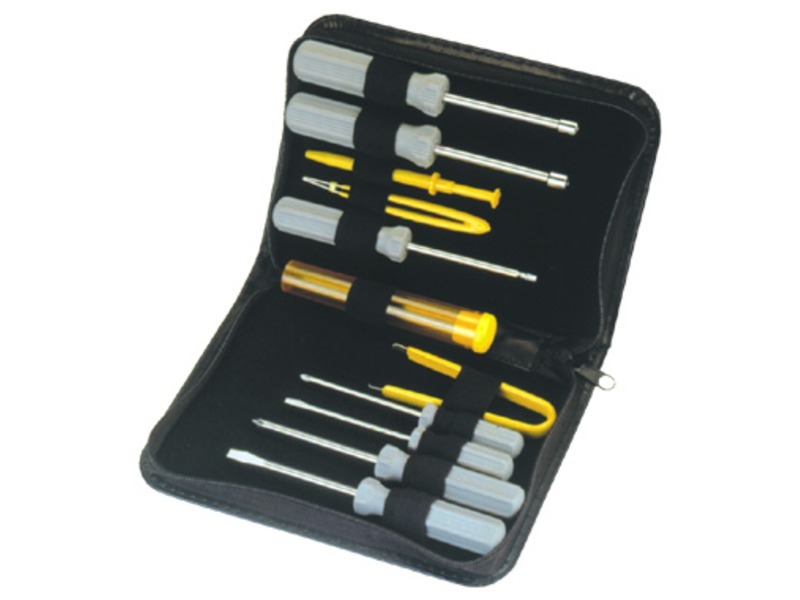 Description
SY-8701A (12 PCS)
• 3/16" FLAT SCREWDRIVER.
• # 1 PHILLIPS SCREWDRIVER.
• 1/8" FLAT SCREWDRIVER.
• # 0 PHILLIPS SCREWDRIVER.
• IC EXTRACTOR.
• SPARE PARTS TUBE.
• T15 TORQUE SCREWDRIVER.
• TWEEZERS.
• THREE PRONGS HOLDER.
• 1/4" NUT DRIVER.
• 3/16" NUT DRIVER.
BLACK ZIPPER CASE.
¡ 20 SETS/CTN/1'/9/10 KGS (G.W.)
Introducing the SY-8701A (12 PCS) Computer Tool Kit, a comprehensive set of tools designed to assist computer enthusiasts and technicians in their various tasks. This toolkit offers a range of essential instruments that will enable you to handle computer-related projects with ease and efficiency.
Included in this kit are screwdrivers of different sizes and types to cater to your needs. The 3/16" flat screwdriver and #1 Phillips screwdriver are versatile tools that can handle a wide range of screws commonly found in computer systems. The 1/8" flat screwdriver and #0 Phillips screwdriver are particularly useful for smaller screws. With these screwdrivers at your disposal, you can confidently dismantle and reassemble computer components as required.
The SY-8701A (12 PCS) Computer Tool Kit also includes an IC extractor, a valuable tool for removing integrated circuits (ICs) without causing damage. Additionally, the kit features a spare parts tube to help you organize and store small components, ensuring they remain easily accessible during your computer projects.
For tasks requiring precise torque control, the kit includes a T15 torque screwdriver. This tool allows you to apply the appropriate amount of force when working with delicate components, preventing overtightening or stripping of screws.