12 Pcs Computer Tool Kit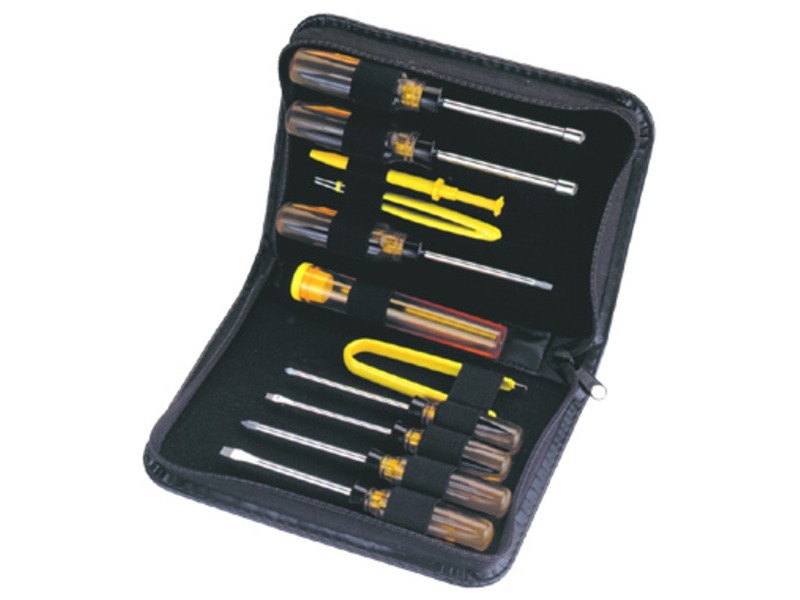 Description
SY-9321 (12 PCS)
• 3/16" FLAT SCREWDRIVER.
• # 1 PHILLIPS SCREWDRIVER.
• 1/8" FLAT SCREWDRIVER.
• # 0 PHILLIPS SCREWDRIVER.
• IC EXTRACTOR.
• SPARE PARTS TUBE.
• T15 TORQUE SCREWDRIVER.
• TWEEZERS.
• THREE PRONGS HOLDER.
• 1/4" NUT DRIVER.
• 3/16" NUT DRIVER.
• BLACK ZIPPER CASE.
¡ 20 SETS/CTN/1'/10.5/11.5 KGS (G.W.)
The SY-9321 (12 PCS) Computer Tool Kit is an indispensable companion for computer enthusiasts, technicians, and DIY enthusiasts. This comprehensive tool kit equips you with a selection of essential tools to handle various computer repair and maintenance tasks effectively.
Included in this kit are screwdrivers in different sizes and types, such as the 3/16" flat screwdriver, 1/8" flat screwdriver, #1 Phillips screwdriver, and #0 Phillips screwdriver. These screwdrivers allow you to easily remove and install screws of different sizes and types commonly found in computer systems. With the right screwdriver at your disposal, you can confidently tackle tasks such as opening computer cases, securing components, and adjusting settings.
When it comes to handling delicate components, the SY-9321 (12 PCS) Computer Tool Kit provides the necessary tools for precision work. The IC extractor enables safe removal of integrated circuits (ICs) from their sockets, ensuring damage-free extraction and smooth troubleshooting or replacement. Additionally, the kit includes tweezers, allowing you to handle small components with precision and ease.
To facilitate efficient repairs and maintenance, the kit offers a spare parts tube, ensuring that small screws, washers, or other components are organized and readily accessible when needed. This saves you time and frustration when locating the right spare part for a specific repair task.