12 Pcs Computer Tool Kit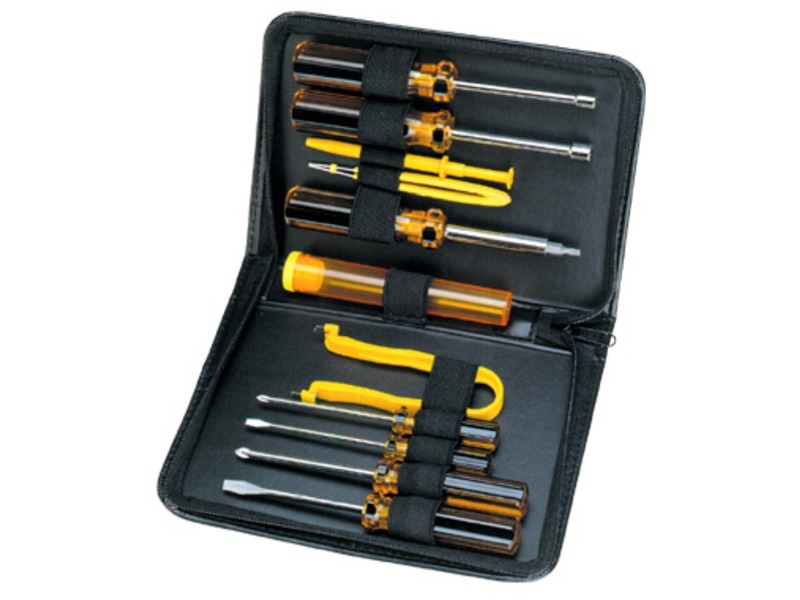 Description
SY-9390 (12 PCS)
• 3/16" FLAT SCREWDRIVER.
• #1 PHILLIPS SCREWDRIVER.
• 1/8" FLAT SCREWDRIVER.
• #0 PHILLIPS SCREWDRIVER.
• IC INSERTION-EXTRACTION CLIPPER
(FOR 14-48 PIN ICS)
• SPARE PARTS TUBE.
• REVERSIBLE T10/T15 TORQUE SCREWDRIVER.
• TWEEZERS.
• THREE PRONGS HOLDER.
• 1/4" NUT DRIVER.
• 3/16" NUT DRIVER.
• BLACK ZIPPER CASE.
¡ 20 SETS/CTN/1
The SY-9390 (12 PCS) Computer Tool Kit is a must-have for anyone involved in computer repairs, upgrades, or maintenance. This comprehensive tool kit provides you with a versatile selection of tools to handle various tasks with ease and precision.
Included in the kit are screwdrivers in different sizes and types, including the 3/16" flat screwdriver, 1/8" flat screwdriver, #1 Phillips screwdriver, and #0 Phillips screwdriver. These screwdrivers are essential for removing and installing screws of different sizes and types commonly found in computer systems. Whether you need to open a computer case or tighten a loose screw, these screwdrivers will be your reliable companions.
One standout tool in the SY-9390 (12 PCS) Computer Tool Kit is the IC insertion-extraction clipper. Designed for 14-48 pin integrated circuits (ICs), this tool simplifies the process of inserting or removing ICs from their sockets. With its precise grip and easy operation, you can confidently handle ICs without the risk of damaging them or their surrounding components.
To keep your workspace organized, the kit also includes a spare parts tube. This handy accessory allows you to store small screws, washers, or other loose components, ensuring they are easily accessible when needed. No more rummaging through cluttered drawers or searching for missing parts—the spare parts tube keeps everything in order.