13 Pcs Computer Tool Kit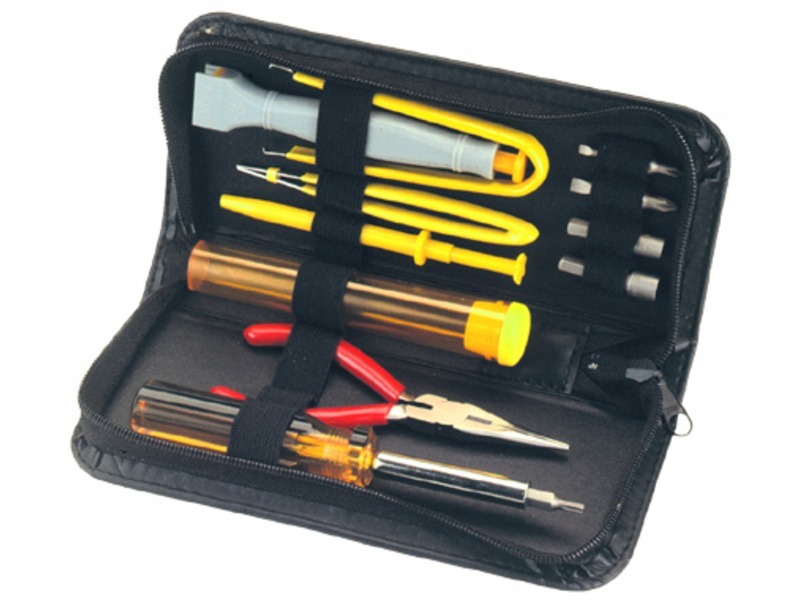 Description
SY-7048 (13 PCS)
• REVERSIBLE SCREWDRIVER BIT: y 1/8" & Å #0.
• REVERSIBLE SCREWDRIVER BIT: y 3/16" & Å #1.
• REVERSIBLE NUT DRIVER BIT: 3/16",1/4".
• IC EXTRACTOR.
• IC INSERTER (14-16 PIN ICS).
TWEEZERS.
• THREE PRONGS HOLDER.
• SPARE PARTS TUBE.
• REVERSIBLE HANDLE.
• REVERSIBLE TORQUE SCREWDRIVER BIT: T10 & T15.
• 5" LONG NOSE PLIERS.
• BLACK ZIPPER CASE.
¡ 40 SETS/CTN/1.2'/13/14 KGS (G.W.)
Introducing the SY-7048 (13 PCS) Computer Tool Kit, a must-have set of tools to enhance your computer repair and maintenance capabilities. Whether you're a professional technician or a passionate computer enthusiast, this toolkit provides you with the essential tools needed to handle a variety of computer-related tasks.
At the heart of the kit are the reversible screwdriver bits. With one end featuring a y 1/8" bit and the other end equipped with an Å #0 bit, these reversible screwdriver bits allow you to effortlessly work with different types of screws commonly found in computer hardware. From smaller, precision screws to slightly larger ones, these bits ensure you have the right tool for the job.
The kit also includes reversible nut driver bits in 3/16" and 1/4" sizes. These versatile bits enable you to tighten or loosen nuts of varying sizes, providing you with the flexibility to tackle different hardware configurations encountered during computer repairs or upgrades.
To assist with the extraction of integrated circuits, the kit offers an IC extractor. This tool allows you to safely remove ICs from their sockets without causing damage to the delicate components surrounding them. With the IC extractor, you can confidently handle IC removal with precision and care.
When it comes to inserting integrated circuits, the IC inserter included in the kit is invaluable. Specifically designed for 14-16 pin ICs, this tool ensures proper alignment and secure insertion of ICs into their respective sockets. With the IC inserter, you can effortlessly handle IC installation, reducing the risk of misalignment or damage.