13 Pcs Computer Tool Kit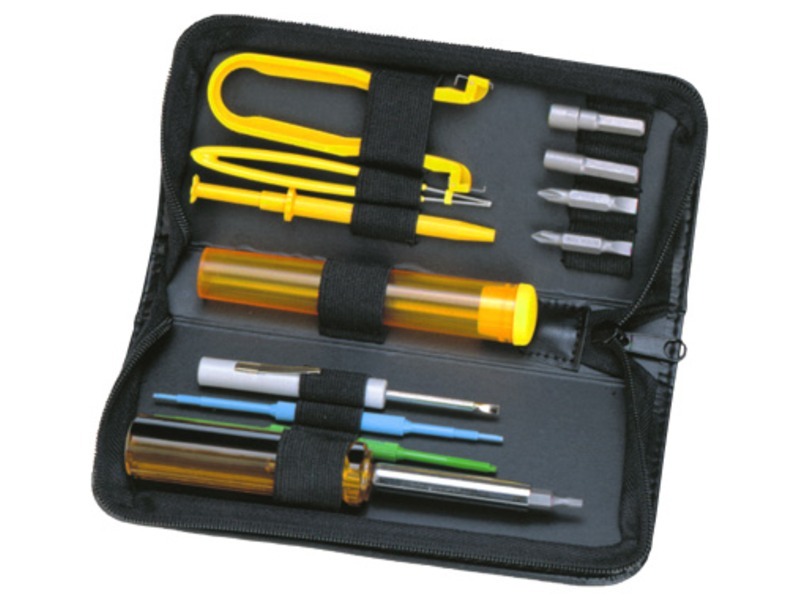 Description
SY-9391 (13 PCS)

• REVERSIBLE T10&T15 TORQUE SCREWDRIVER.
• 2 PCS PRECISION ALIGNER TOOL.
• REVERSIBLE y1/8" & Å # 0 MINI SCREWDRIVER (WITH POCKET CHIP).
• SPARE PARTS TUBE.
• THREE PRONGS HOLDER.
• TWEEZERS.
• IC INSERTION-EXTRACTION CLIPPER (FOR 14-48 PIN ICS).
• 2 PCS REVERSIBLE NUT DRIVER BIT: 3/16",1/4".
• 2 PCS REVERSIBLE SCREWDRIVER BIT: y3/16" & Å # 1,y1/4" & Å # 2
• BLACK ZIPPER CASE
¡ 40 SETS/CTN/1.2'/11.5/12.5 KGS (G.W.)
The SY-9391 (13 PCS) Computer Tool Kit is a versatile and indispensable set of tools designed to meet the demands of computer enthusiasts, technicians, and professionals alike. With a comprehensive selection of high-quality tools, this kit equips you with everything you need to tackle various computer-related tasks with ease and efficiency.
One of the key tools included in the SY-9391 (13 PCS) kit is the reversible T10&T15 torque screwdriver. This tool allows you to apply precise torque when working with screws, ensuring a secure fit without the risk of overtightening or stripping. Whether you are assembling a computer system or performing maintenance, this torque screwdriver provides the necessary control for delicate operations.
For precision alignment tasks, the kit features two precision aligner tools. These tools enable you to accurately position components, such as connectors or jumpers, in their designated slots or sockets. With their fine-tipped ends and ergonomic handles, these aligner tools make it easy to achieve precise alignment and prevent any misconnections or errors.
The SY-9391 (13 PCS) Computer Tool Kit also includes a reversible y1/8" & Å # 0 mini screwdriver with a pocket chip. This compact and versatile tool is perfect for handling small screws commonly found in computers, laptops, or other electronic devices. Its reversible design allows you to switch between y1/8" and Å # 0 screwdriver heads, providing flexibility for various screw sizes and types.