14 Pcs Computer Tool Kit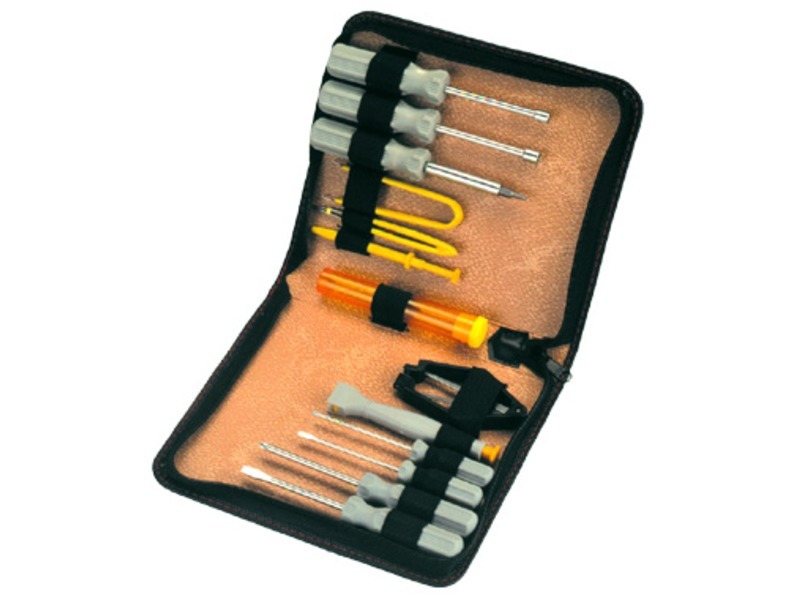 Description
SY-8900 (14 PCS)
• 3/16" FLAT SCREWDRIVER.
• # 1 PHILLIPS SCREWDRIVER.
• 1/8" FLAT SCREWDRIVER.
• # 0 PHILLIPS SCREWDRIVER.
• IC INSERTER (14-16 PIN ICS).
• PLCC IC EXTRACTOR.
• SPARE PARTS TUBE.
• THREE PRONGS HOLDER.
• TWEEZERS.
• IC EXTRACTOR.
• 1/4" NUT DRIVER.
• 3/16" NUT DRIVER.
• REVERSIBLE T10 & T15 TORQUE SCREWDRIVER.
• BLACK ZIPPER CASE.
¡ 20 SETS/CTN/1.4'/12/13 KGS (G.W.)
Introducing the SY-8900 (14 PCS) Computer Tool Kit, a comprehensive set of tools designed to enhance your computer-related projects. This toolkit equips you with a range of essential instruments, enabling you to handle various tasks efficiently and effectively.
Included in this kit are screwdrivers of different sizes and types to cater to your needs. The 3/16" flat screwdriver and #1 Phillips screwdriver are versatile tools suitable for a wide range of screws commonly found in computer systems. The 1/8" flat screwdriver and #0 Phillips screwdriver are particularly useful for handling smaller screws. With these screwdrivers at your disposal, you can confidently dismantle and assemble computer components as required.
The SY-8900 (14 PCS) Computer Tool Kit also features an IC inserter designed specifically for 14-16 pin ICs. This tool allows for easy and safe insertion of integrated circuits into sockets, ensuring secure connections and preventing damage.
To facilitate the removal of PLCC (Plastic Leaded Chip Carrier) ICs, the kit includes a PLCC IC extractor. This specialized tool provides a secure grip on the ICs, allowing for safe removal without causing any harm to the components or surrounding circuitry.