17 Pcs Computer Tool Kit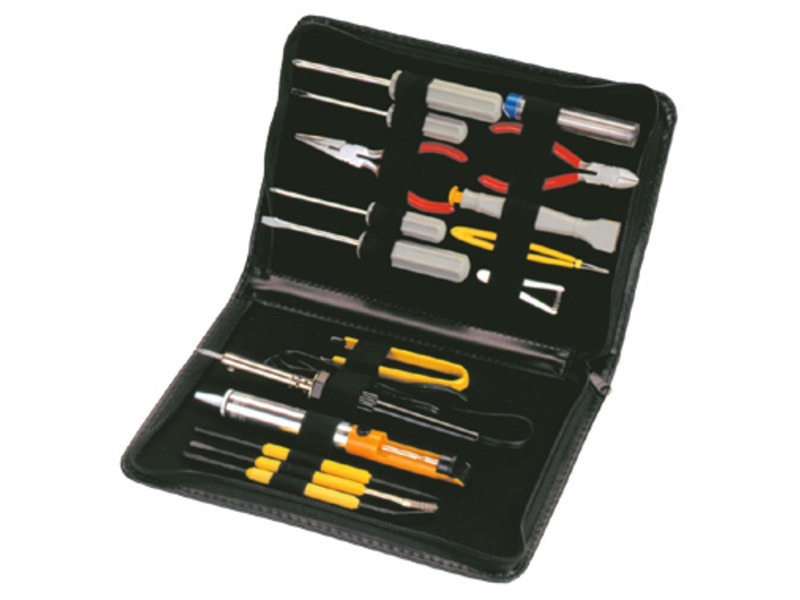 Description
SY-9317 (17 PCS)
• 3 PCS SOLDERING AID TOOLS.
• SOLDER PUMP.
• SOLDERING IRON.
• IC EXTRACTOR.
• 3/16" FLAT SCREWDRIVER.
• 1/8" FLAT SCREWDRIVER.
• 5" LONG NOSE PLIERS.
• # 0 PHILLIPS SCREWDRIVER.
• # 1 PHILLIPS SCREWDRIVER.
• HEAT SINK.
• TWEEZERS.
• IC INSERTER (14-16 PIN ICS).
• 4-1/2" SIDE CUTTER.
• SOLDER REEL.
• BLACK ZIPPER CASE.
¡ 20 SETS/CTN/1.9'/14/15 KGS (G.W.)
The SY-9317 (17 PCS) Computer Tool Kit is a must-have for anyone involved in computer repair, maintenance, or soldering projects. This comprehensive toolkit provides you with a wide range of tools specifically designed to tackle various tasks with precision and efficiency.
One of the highlights of this kit is the inclusion of three soldering aid tools, which are essential for working with electronic components. These tools assist in tasks such as positioning, adjusting, and holding components during soldering, ensuring accurate and reliable connections. Additionally, the solder pump included in the kit allows for easy removal of excess solder, facilitating repairs and modifications.
For precise soldering, the SY-9317 (17 PCS) Computer Tool Kit features a soldering iron. This tool provides the necessary heat for soldering components onto circuit boards, ensuring secure and durable connections. With the soldering iron at your disposal, you can confidently undertake soldering tasks and achieve professional results.
To aid in the extraction of integrated circuits (ICs) from their sockets without causing damage, the kit includes an IC extractor. This tool ensures safe and reliable removal of ICs, allowing for efficient troubleshooting and replacement when necessary.