19 Pcs Computer Tool Kit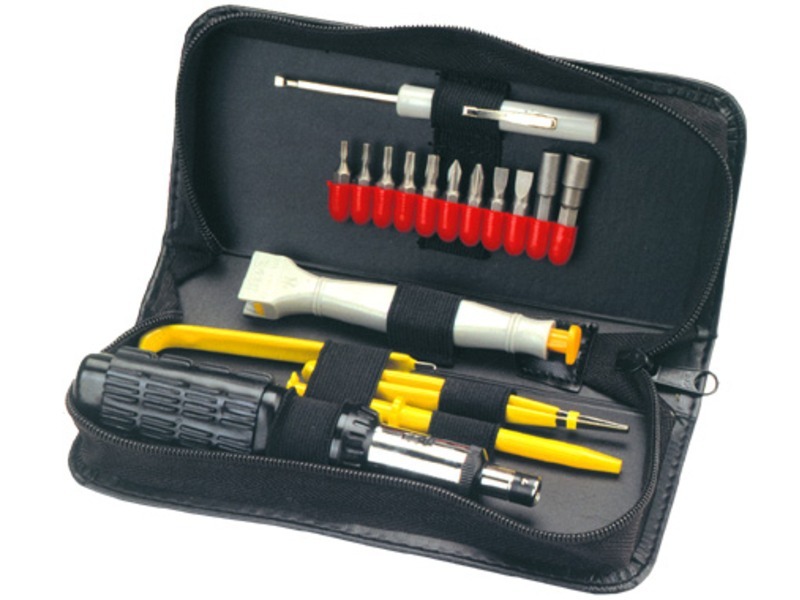 Description
SY-7047 (19 PCS)
• 5 PCS TORQUE SCREWDRIVER BIT:
T8,T10,T15,T20,T25.
• 4 PCS SCREWDRIVER BIT: y 5, y 6, Å #1, Å #2.
• 2 PCS NUT DRIVER BIT: 3/16",1/4".
• IC EXTRACTOR.
• TWEEZERS.
• THREE PRONGS HOLDER.
• IC INSERTER (14-16 PIN ICS).
• REVERSIBLE y1/8" & Å #0 MINI SCREWDRIVER
(WITH POCKET CHIP).
• REVERSIBLE RATCH HANDLE.
• BLACK ZIPPER CASE.
¡ 40 SETS/CTN/1.2'/15.5/16.5 KGS (G.W.)
Introducing the SY-7041 (11 PCS) Computer Tool Kit, a comprehensive set of tools designed to enhance your computer repair and maintenance capabilities. Whether you're a professional technician or an enthusiastic computer hobbyist, this kit provides you with the essential tools needed to handle a wide range of computer-related tasks.
One of the key components of this tool kit is the IC inserter specifically designed for 14-16 pin ICs. With this tool, you can safely and accurately insert and position integrated circuits, ensuring proper connectivity and functionality within your computer system.
The kit features a reversible handle, providing versatility and convenience when working with various screws and fasteners. Accompanying the handle are reversible screwdriver bits in different sizes, including y1/8" & Å #0 and y3/16" & Å #1. These bits allow you to tackle different types of screws commonly found in computer hardware, ensuring efficient and precise screwdriving.
For torque-sensitive screws, the reversible torque screwdriver bit offers T10 and T15 options. This enables you to handle torque screws with the appropriate level of force, ensuring secure fastening without risking damage to delicate components.