30 Pcs Computer Tool Kit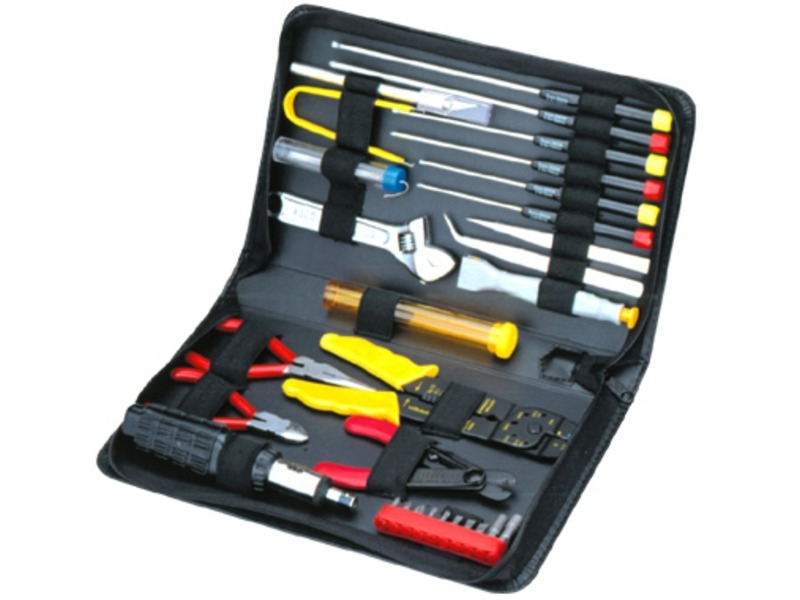 Description
SY-9426 (30 PCS)
• BIT GROUP:
2 PCS NUT DRIVE BIT: 3/16",1/4".
6 PCS SCREWDRIVER BIT:
y 4, 5, 6mm, Å # 0, # 1, # 2.
2 PCS TORQUE SCREWDRIVER BIT:
T10,T15.
• 5" WIRE CUTTER/STRIPPER.
• 8" CRIMPING TOOL.
• REVERSIBLE RATCH HANDLE.
• 4-1/2" SIDE CUTTER.
• 5" LONG NOSE PLIERS.
• SPARE PARTS TUBE.
• 6" ADJUSTABLE WRENCH.
• SOLDER REEL.
• IC EXTRACTOR.
• KNIFE.
• 6 PCS PRECISION SCREWDRIVER SET:
(y 2.4
The SY-9426 (30 PCS) Computer Tool Kit is a comprehensive and versatile set of tools that empowers computer enthusiasts, technicians, and professionals to handle a wide range of computer repair and maintenance tasks. With its extensive selection of high-quality tools, this kit equips you with the necessary instruments to tackle complex computer-related challenges with confidence and precision.
The bit group included in the SY-9426 (30 PCS) kit is a powerhouse of versatility. With two nut drive bits (3/16" and 1/4"), six screwdriver bits (y 4, 5, 6mm, Å # 0, # 1, # 2), and two torque screwdriver bits (T10, T15), you have the flexibility to tackle various screw sizes and types. From small device repairs to larger component installations, these bits provide the reliable grip and torque needed for efficient and effective work.
The 5" wire cutter/stripper is an essential tool for any computer repair task involving cables or wires. With its sharp cutting edge and precise stripping capabilities, this tool allows you to handle wire connections with ease and accuracy. From trimming excess wire length to stripping insulation, this tool ensures clean and professional cable management.
When it comes to crimping connections, the 8" crimping tool in the kit is your go-to tool. Designed to create secure and reliable crimps, this tool is indispensable for working with connectors, terminals, or network cables. Its ergonomic design and sturdy construction ensure comfortable and efficient crimping, making it an essential tool for network installations or cable repairs.