86 Pcs Blowing Case Series Tool Kit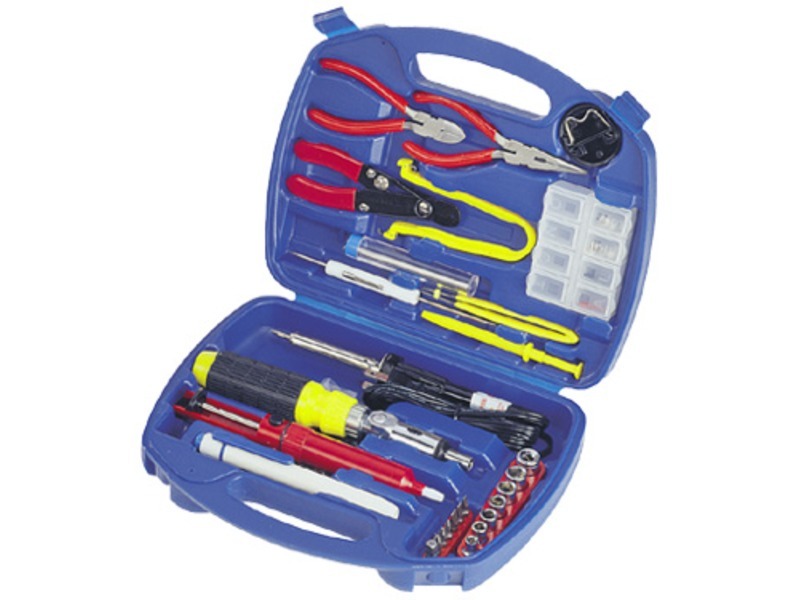 Description
SY-5002 (86 PCS)
• 1 PCS 3 WAY REVERSIBLE RATCH HANDLE.
• BIT GROUP:
3 PCS FLAT: 4, 5, 6mm.
3 PCS PHILLIPS: #0, #1, #2.
1 PCS ADAPTER BIT.
• 7 PCS SOCKET:
3/16", 1/4", 9/32", 5/16", 11/32", 3/8", 7/16".
• REVERSIBLE
Introducing the SY-5002 (86 PCS) Tool Kit, a comprehensive collection of essential tools designed to tackle a wide range of tasks. Whether you're a professional tradesperson or a DIY enthusiast, this kit is sure to become an invaluable asset in your toolbox.
The centerpiece of this tool kit is the 3-way reversible ratch handle, which provides versatility and ease of use. With a simple flick of a switch, you can change the direction of the ratcheting motion, allowing for efficient tightening and loosening of screws and bolts.
The bit group included in this kit is a must-have for any handyman. It consists of 3 flat bits (4mm, 5mm, and 6mm) and 3 Phillips bits (#0, #1, and #2). These bits are commonly used for a variety of applications, from assembling furniture to repairing electronic devices. Additionally, an adapter bit is included, enabling you to use the bits with different types of screwdrivers.
To cater to your socket needs, this tool kit offers 7 sockets in various sizes. The sizes range from 3/16" to 7/16", providing versatility to handle different bolt and nut sizes. These sockets are crafted with precision and durability in mind, ensuring a secure fit and optimal performance.