9 Pcs Computer Tool Kit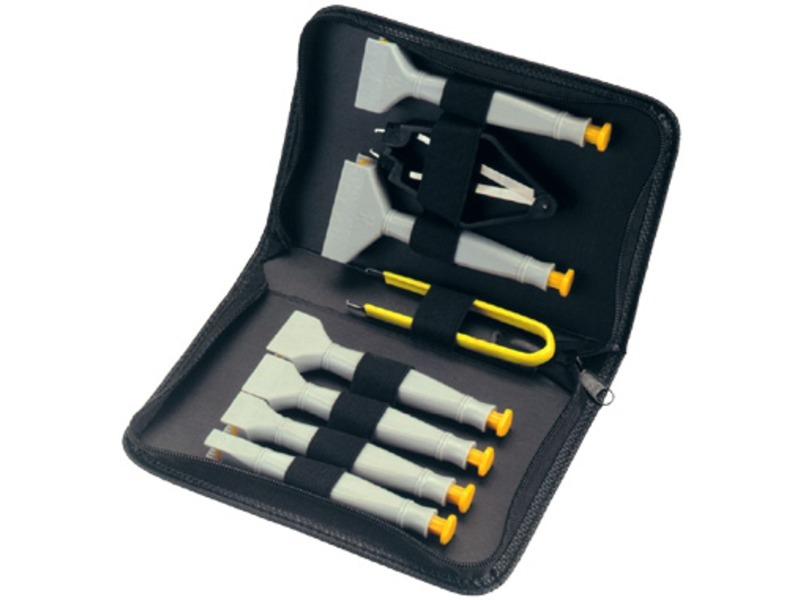 Description
SY-8172 (9 PCS)
• 8 PIN IC INSERTER.
• 14-16 PIN IC INSERTER.
• 18-20 PIN IC INSERTER.
• 22 PIN IC INSERTER.
• 24-28 PIN IC INSERTER.
• 36-40 PIN IC INSERTER.
• IC EXTRACTOR.
• PLCC IC EXTRACTOR.
• BLACK ZIPPER CASE.
¡ 40 SETS/CTN/1.6'/11/12 KGS (G.W.)
Introducing the SY-8172 (9 PCS) Computer Tool Kit, a compact and efficient set of tools designed specifically for computer technicians and enthusiasts. This kit provides you with the essential instruments needed to handle various tasks related to integrated circuits (ICs) with ease and precision.
Included in this kit are multiple IC inserters tailored to different pin sizes. The 8 PIN IC inserter is perfect for handling ICs with 8 pins, while the 14-16 PIN IC inserter is designed for ICs with 14 to 16 pins. Additionally, the kit offers inserters for ICs with 18-20 pins, 22 pins, 24-28 pins, and 36-40 pins. With these inserters, you can confidently and safely insert and extract ICs of different sizes, ensuring a seamless and efficient process.
To facilitate the extraction of ICs from their sockets, the kit features an IC extractor. This tool allows you to remove ICs without causing any damage to the surrounding components or circuitry. Additionally, a PLCC IC extractor is included, specifically designed for extracting PLCC (Plastic Leaded Chip Carrier) ICs. With these extractors, you can handle a wide range of ICs encountered in computer systems.
All the tools in the SY-8172 (9 PCS) Computer Tool Kit are conveniently stored and protected in a durable black zipper case. This case not only keeps your tools organized and easily accessible but also ensures their safety during transportation and storage. Whether you are working on-site or at your workstation, the case provides convenient portability and efficient tool management.